Office of the Secretary Patient-Centered Outcomes Research Trust Fund (OS-PCORTF)
Image

Image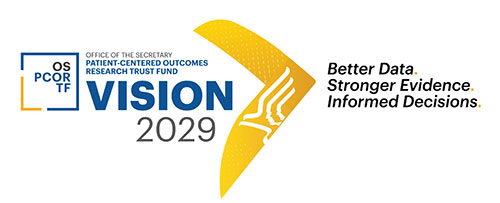 Data are central to research that advances the health and well-being of all Americans. Accurate and trustworthy data help researchers study the health outcomes of medical treatments, strengthen public health programs, and improve delivery of social services. Making sure these data are routinely and reliably collected, available, and transformed into actionable evidence through research and analysis requires focused and coordinated efforts.
Within HHS, the Office of the Assistant Secretary for Planning and Evaluation (ASPE) has been charged with this critical role for patient-centered outcomes research (PCOR), including administering the Office of the Secretary's Patient-Centered Outcomes Research Trust Fund (OS-PCORTF). Patient-centered outcomes research aims to generate high-quality evidence about the effectiveness of treatments, services, and other health care interventions on the full range of outcomes that patients, caregivers, clinicians, policymakers, and other stakeholders have identified as important. Through the OS-PCORTF, HHS supports multi-agency data projects to improve the collection, linking, and analysis of data for PCOR studies.
The OS-PCORTF website provides an overview of ASPE's efforts to develop and implement an extensive array of projects that expand data capacity for patient-centered outcomes research, including the datasets, tools, and other resources produced by the portfolio of PCOR data projects and other collaborations. The OS-PCORTF Strategic Plan (2020-2029) guides these efforts to improve evidence generation, decision making, and health outcomes for all Americans.
Spotlight on the OS-PCORTF from NIH Collaboratory on Vimeo.
Nancy DeLew of the US Department of Health and Human Services and Dr. Wendy Weber of the National Center for Complementary and Integrative Health discuss the accomplishments and strategic priorities of the OS-PCORTF, the Patient-Centered Outcomes Research Trust Fund in the Office of the Secretary.
To learn more about our vision for the future, read the OS-PCORTF 2020-2029 Strategic Plan.